CHEMO VACATION, CHINATOWN, CATASTROPHIZE, DRAMA QUEEN
Well the New Year started out great. We had a vacation from the Infusion Center, hallelujah. No Doctor appointments, no hospital, just hanging out, enjoying ourselves,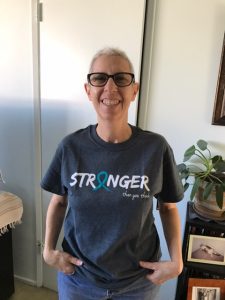 watching movies and only sometimes letting my mind go crazy. Which is actually really great for me. In my old age I have discovered new things about myself and learned two new words. I catastrophize (new), awfulize (new), I'm bad at dealing with stress and I'm a drama queen. Sometimes I feel like I'm in the movie Chinatown. Your daughter, your sister, your daughter, your sister. My highs and lows change on a dime. My emotions are directly connected to how Michelle feels. I made one New Year's resolution and that was to meditate. So far it's been 15 days in a row and that is my record. I'm even trying to replace my middle finger with the peace sign. It needs some work.
Michelle has been feeling a lot better. I've gotten her out walking, going to screenings and just trying to be normal, whatever that is. At Oscar award season these free SAG screenings of great movies are like the greatest therapy possible. Of course next week we go back to our favorite underground holiday getaway. Reservation for two? At long infusion, or short?
 HYDRATE, HYDRATE, HYDRATE! Another word I learned that is one of the most important things when it comes to the way Michelle feels and she won't drink her damn water! It drives me crazy! Oh, time to meditate. HYDRATE!!