18th Overtime! This game is toooo long! Ready to go home!
Almost last blog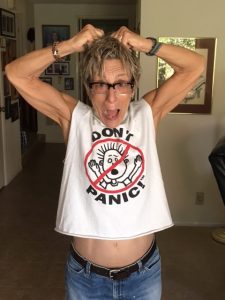 Well, it's been a while since I've checked in because we've been in a holding pattern. Michelle was supposed to have her last chemo and her blood count was low again so it was put off until this last Monday. To be perfectly honest with you I am so over writing this blog. I want this all to be done and Michelle to be cancer free so we can enjoy our lives. It's like the never-ending story. It's like a baseball game that goes on for 16 innings, and I find baseball boring as hell at one inning, (sorry Ed). It's like when you ask the wrong person a question and they give you an answer that lasts 45 minutes and you want to jump out of your skin. I absolutely hyperventilate if somebody goes into every detail or leaves you a message on your phone that lasts 15 minutes. I know I talk a lot, but not that much, come on. Besides my family talks over themselves so no one can talk for very long.
Anyway, getting back on point this last chemo went as planned I was told. I was not there for the first time in over seven months. I was very torn but I was lucky enough to get a Fellowship with LA Fellows. I will quote from their website. "A unique collaboration combining professional development and volunteerism as a meaningful pathway to employment." I'm very excited about this. I was accepted seven months ago, but I turned it down when Michelle got her diagnosis and now I'm back at it again. In between classes I'm wheatgrass juicing and juice juicing for Michelle like crazy and she's doing well. Her markers went from 8 to 6 so things keep shrinking and so do I. Next up radiation! All for now.