GREAT NEWS, MOTEL 6, PLATINUM STATUS
Well, it feels like we're in the movie Groundhog Day. Speaking of movies, my picture today is in solidarity with Warren Beatty.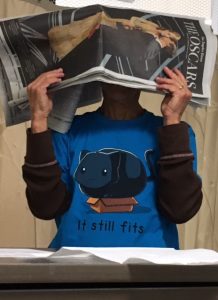 Another Monday morning at our favorite B & B, Part Two of Chemo 7 The Sequel. I would not call this an action film more like a character study, an independent film but, the biggest budgeted independent film of all time! We are here at 7:30 AM and I need coffee. We are in Room 1 today, which I will call the Motel 6 of the infusion center. Let's see, the light switch is behind the glass door that you can't get to, the toilet will not open, it's broken and there's no chair for me. We asked for an upgrade, but didn't get it. Everything went as planned and we were out of there seven hours later. One thing that made me very sad was I happened to look down the hall and see a familiar face walking towards me connected to an IV pole. A former neighbor of ours who had just been diagnosed. I was so sad to see him and it just makes you realize how tricky life can be.
News Flash! The next day we went to the doctor and there was great news regarding the PET Scan results. Two of the three tumors appear to be gone. The one next to where the kidney stent was placed is being stubborn, (kind of like Michelle). She only needs one more round of chemo and then radiation on that area because they feel it will be small enough by then that it can be targeted safely with radiation. We are so happy!! We've been here so much that now they wanted to make us Platinum guests!!
We turned them down.