REMISSION, REMISSION = HAPPY ENDING! LAST BLOG!
Well, Michelle had her PET scan and a CT scan last Thursday. We thought we had to wait until Tuesday for the results, but to our relief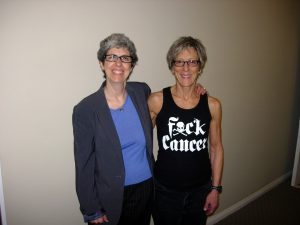 the doctor called Friday night to tell us the good news. The tumors had shrunk and Michelle is officially in remission. Well, I went crazy happy but Michelle wanted to wait until we saw the doctor on Tuesday, just to make sure what we heard was right. Well, we went to the doctor yesterday and she confirmed that everything is good. The chemo worked and after nine months of craziness it was all worth it at the end. If I go back to my old blogs and see what she went through between the stent not working, the hospital stay, the allergic reaction to the chemo and on and on and on it's like a terrible dream. But in the end it saved her life and we are so unbelievably grateful and happy!! We can finally move on with our lives.
I want to thank everyone for their love, support, prayers, positive thoughts, encouragement, caring and everything and anything else I've forgotten. We appreciate all of you so much!
Remember to value your health, be grateful for another day, don't take your family for granted, learn to relax, enjoy nature and BREATHE!! (That last one, do as I say, not as I do), I'm trying. And very important, EXERCISE! Get out in the fresh air! It's important for your mental well-being as well as your physical well-being. OK I'm through preaching! Oh wait, no I'm not.
And find the humor in everything!
It took all my willpower but I did it! I didn't get political! (Only this once).