JUST ANOTHER CHEMO MONDAY
Here we are once again. Monday morning at our home away from home, the second to the last chemo. Finally! Her blood work was good so everything was a go. I said a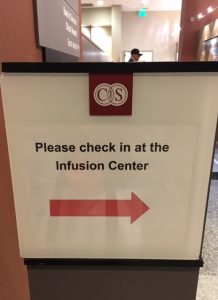 while back that I wanted to hang a few pictures up because this was feeling like our second home. So I picked a poster we have of one of our favorite art house lesbian films. I guess it wasn't a good choice. It was either that or bring one of our cats and I just opted for the poster ;-). So everything went as planned, (how unusual), and I got a break in the form of Michelle's sister Ilya. She came at 2 pm and I got to leave for the rest the day. They stayed on until almost 6 pm so it was a treat! I finally felt comfortable enough to leave Michelle and I knew she was in good hands. I did enjoy a little time away from the bunker because we were back the next day for hydration.
On the way out, the line to check in was so long it looked like a line for Starbucks or the DMV. So many people at the chemo center, so many people getting treatment. When will this stop? When will they find a cure for this fucking disease! We have self-driving cars, drones, a mind-controlled prosthetic arm that moves individual fingers, and a Barbie that finally looks like a real woman!! (Thank god!) So where's the cure for cancer?!!!
OK Apple I'm counting on you. Your iphones can do anything so now invent one that can cure this horrible disease!