CHEMO CHRISTMAS AND A HYDRATED HANUKKAH
Back to the doctor for a follow up before the next chemo, which was supposed to be on Monday. With everything going on we usually joke with the doctors, but this time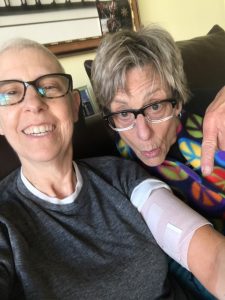 Michelle broke down and said she didn't want to do this anymore. She was sick and still had the potassium burns on her arm and was beat up. They were extremely responsive, ordered a hearing test, changed her chemo again and decided she needed a port in her arm so no more needles. They pushed the chemo back one more week and decided instead of two days in a row they would be a week apart. And because it's been so hard for her to drink water because even water makes her sick they are going to have her back to be hydrated the day after each chemo. Happy holidays!! I'm dreaming of a Chemo Christmas and a Hydrated Hanukkah. I don't drink, but all I want for Christmas is 12 Shots of Tequila and a Partridge in a Pear Tree!
Port Day Procedure Center
So we go to the hospital to get the port. They explained everything and want to know if we want to see the port. Well it looks like an Apple earbud and it will be great for listening to music while getting blood drawn and chemo treatment. Of course we're talking about Michelle so they couldn't do Plan A. It turns out Michelle has very small rolling veins so that's why the IV's were so hard to do well. So no Plan A, but they still had Plan B or Plan C. Luckily they could do Plan B. I can only imagine what plan C would be. I know, they would put the port in me and it would go from me to Michelle. That way we both can listen to music on chemo days.  Michelle will be sore for a few days and then on to chemo treatment five.
Becoming more unhinged by the day!!