Hi, I'm Denise McCanles. I work with cancer survivors.  I help them improve their mental and physical well-being through walking and talking.. I am a Certified Health and Life Coach with personal experience in habit changing. This involved rice pudding, peanut M & M's, hostess fruit pies, The Rocky Horror Show and NYC. Curious?
What makes me think I can help you?

Two years experience as a Walking and Health coach

Three years experience as a Certified Life Coach

Three years experience as a Career Coach

Over six years experience as the spouse of a cancer survivor

 I started a successful weekly one-on-one walking program at weSPARK, a non-profit cancer support center.

 I started a walking group at Groceryships, a non-profit that teaches Health & Wellness in low income communities.

 I worked over a year as a volunteer with Women for Change Coaching as a Life Coach.
When I'm not walking and actively listening to clients, I can be found riding my bike around LA pretending that it's safe, watching art films, trying to rid the world of hypocrisy thru humor, and forever trying to figure out how to keep my cats from boredom.
If you're dying to know more, here are five things you don't know about me: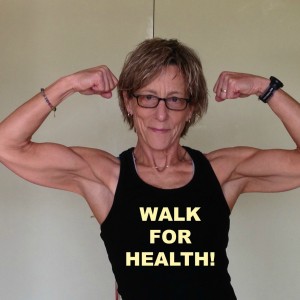 Peet's Coffee is my favorite food

 I'm a vegan

 I love the beach before sunrise

 I love making people laugh

 I make people laugh unintentionally
Ready to feel better? Walk with me!